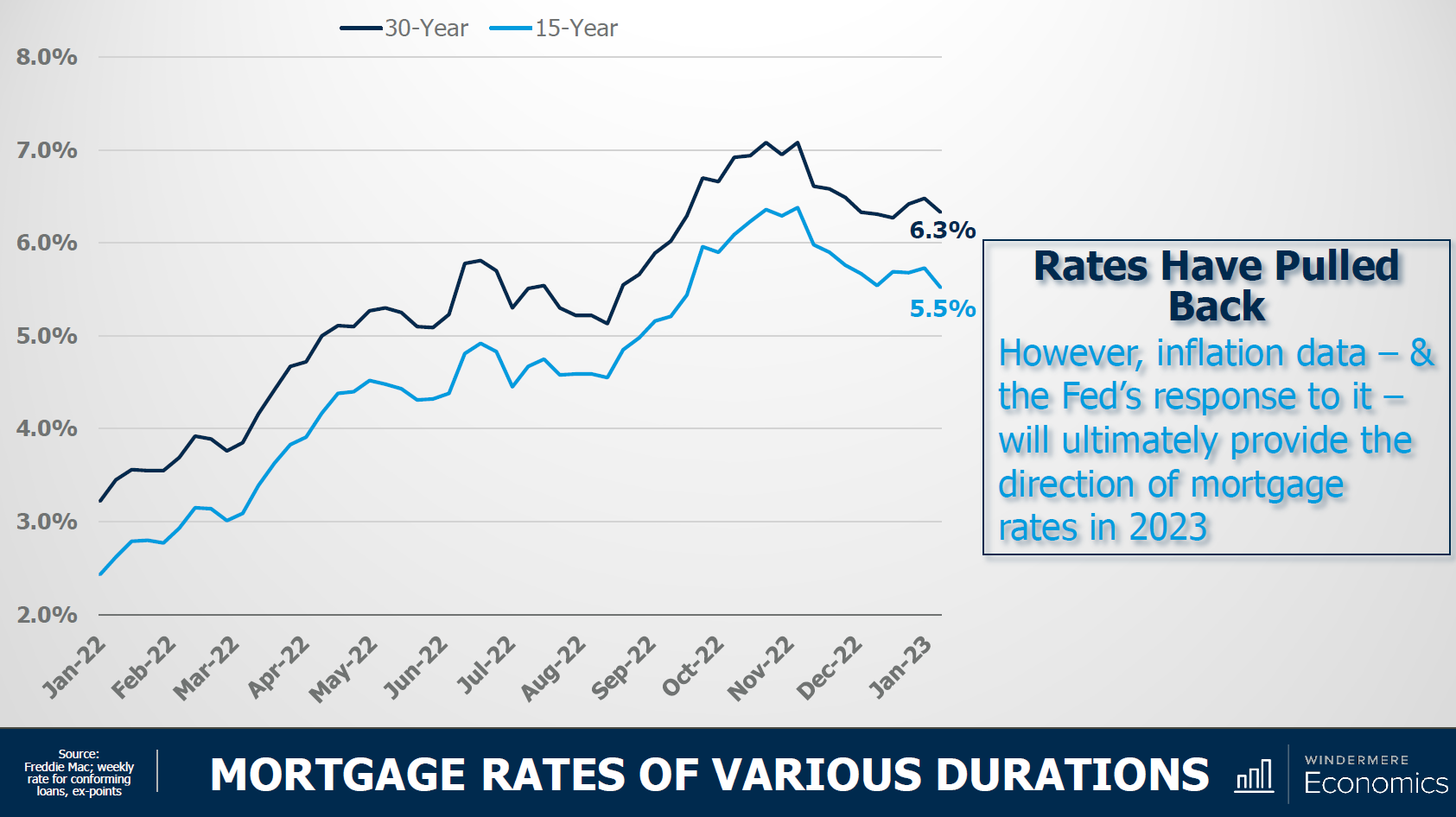 Last week, my office had the pleasure of hosting Windermere's Chief Economist, Matthew Gardner for his 2023 Economic and Housing Forecast. During this jam-packed hour of insightful delivery, he reported on the U.S. and local economies along with the U.S. and local housing markets specific to King and Snohomish Counties. If you are interested in receiving the recording of the event and/or his PowerPoint slides, please reach out. You can also access the link at the bottom of this newsletter to get his concise forecast for the U.S. housing market.
Across the nation, we saw a real estate market correction in 2022 as interest rates doubled. Interest rates started the year at just over 3%, peaked in November at just over 7%, and ended at just under 6.5%. Since the first of the year, we are closer to 6% and anticipate rates to continue to improve towards 5% throughout 2023. The Feds utilized rising interest rates to combat inflation in an effort to create a short recession to slow the cost of all products and services after record-breaking increases during the pandemic. This has reduced spending due to money becoming more expensive to borrow and corrected prices across many industries, including housing.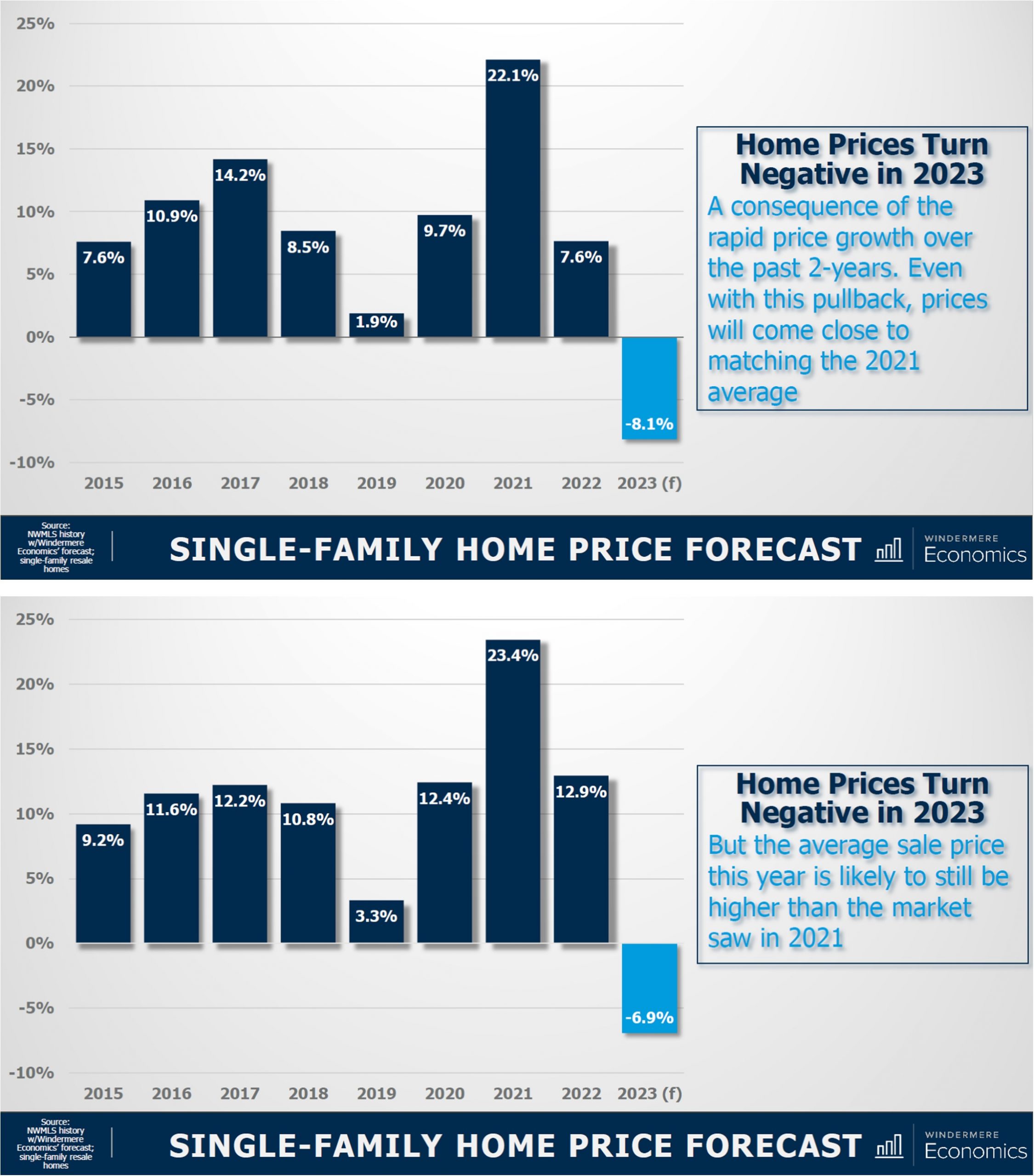 The trends across the nation are consistent, but as your local expert, along with the national forecast I am committed to reporting hyper-local facts, figures, and trends to help you understand what is happening and what will happen right in our own backyard. Our local housing market was not immune to the effects of rising interest rates. Our prices peaked in the spring and as rates climbed over 6%, prices took a tumble from the spring highs inflated by cheap money. However, prices are still higher than they were in 2021 which was a recording-breaking year of price growth.
In King County, prices were up 22% in 2021, and in Snohomish County, they were up 23%. We started 2023 with higher prices over 2021, but off the peak of 2022. This is a price reversion, not a housing recession! In fact, in King County, 64% of homeowners with a mortgage have over 50% home equity and in Snohomish County, 63% of homeowners with a mortgage have over 50% home equity. Homeowners are fortified with strong cash positions which is a clear indicator we are nowhere near a housing crisis; we are actually incredibly healthy! While the highs of 2022 were wiped out, the long-term growth we have had over the last decade is the foundation and guiding light of our market. If you bought in 2022, don't fret, just hold, values will eventually return.
The worst of this correction seems to be behind us as rates are expected to continue to improve throughout 2023 and consumers are adjusting to a more normalized market. Prices are starting to stabilize and are near, if not at the bottom, and should have modest growth in the second half of 2023. We are already starting to see pending sales pick up. Month-to-date (MTD), pending sales are up 25% in King County over December (month-over-month, MOM) and up 21% MOM in Snohomish County. This increase in pending sales is coupled with available inventory being down 15% MOM in King County and down 18% MOM in Snohomish County. Inventory remains tight with MTD inventory levels shifting from a balanced market to a moderate seller's market based on pending sales rates in both counties.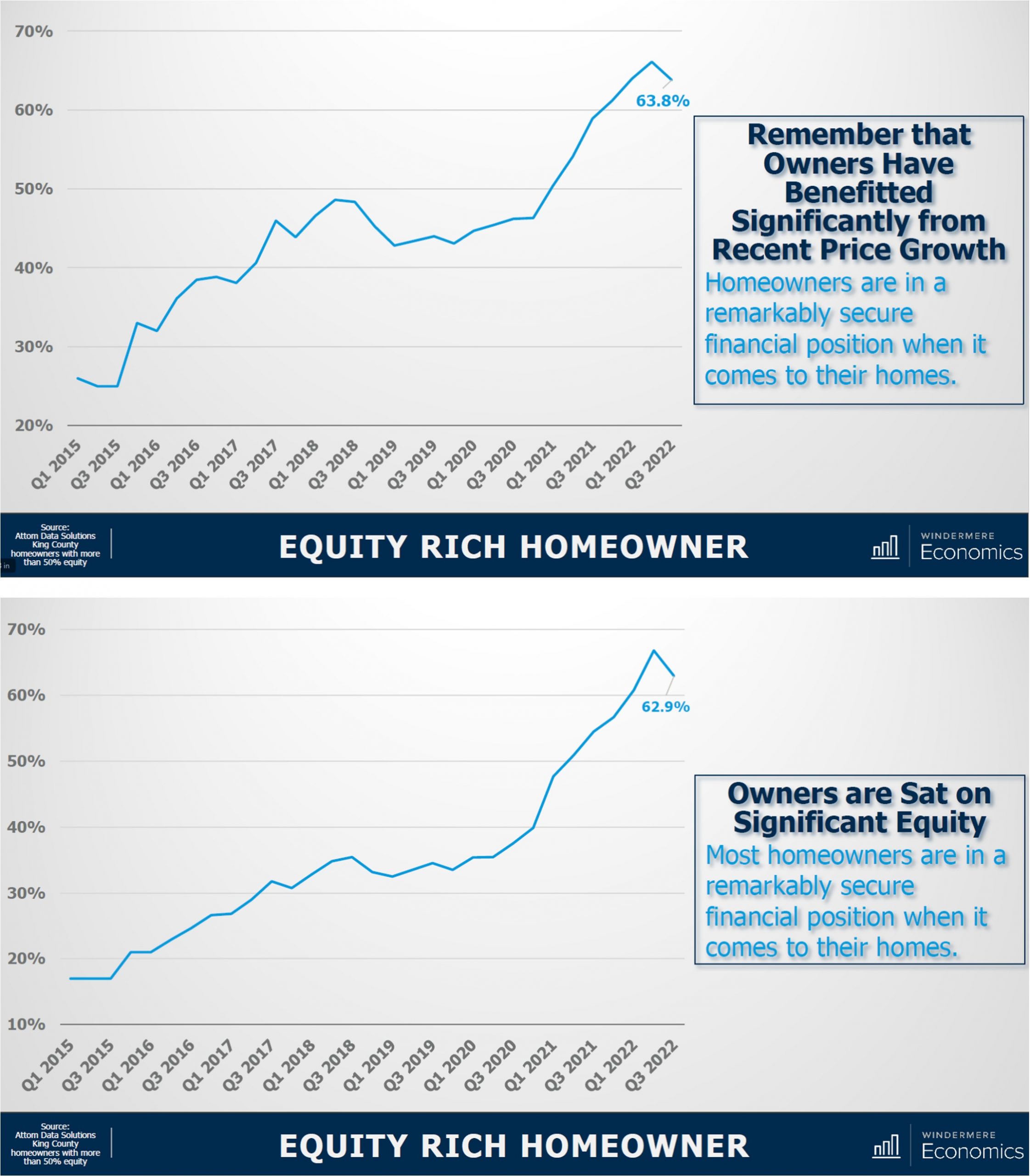 It seems that buyer demand is improving and activity is becoming more plentiful. Buyers should take note and be ready to transact if they are poised to make a move. It is a delicate dance between prices and interest rates. Buyers must understand that they can't change their sale price once they've bought, but they can always refinance and change their rate. I have even heard of lenders guaranteeing a future refinance when the rate hits a certain point. Real estate is a long-term hold investment and also where you live. If where you are at doesn't currently meet your needs, consider a move if you plan to stay there for 5+ years.
Affordability has been a challenge in our area, so if a buyer can obtain a good price this year and then adjust their rate later by refinancing, they will have a much more affordable monthly payment down the road. This takes strategizing and planning and the guidance of a trusted lender and real estate broker. Utilizing adjustable-rate mortgages, rate buydowns, and other creative financing options has put savvy buyers in the catbird seat as they navigate this environment and make exciting moves.
Matthew's closing words summarized the wild ride of coming off of the pandemic and where we are headed. "2023 will be a transition year when the housing market comes off the high that we saw during the pandemic when borrowing costs were artificially low. I don't see any reason for buyers or sellers to panic at all! By the end of this year, most markets will have already corrected themselves and we will see prices and demand pick up again, but at a far more normalized pace."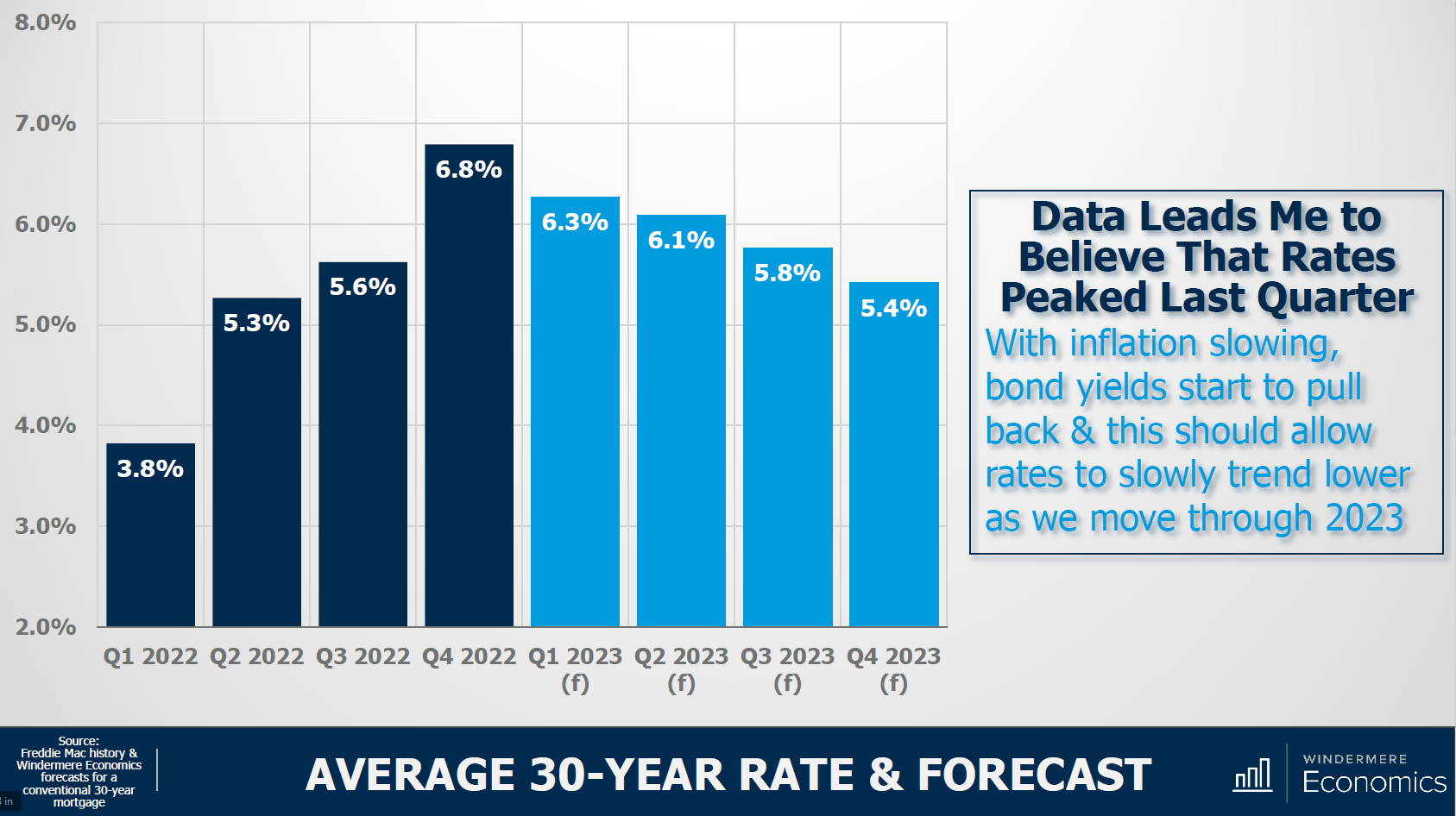 Real estate is an investment and a lifestyle decision. I am committed to following experts like Matthew and others. I also study the local market trends daily. Markets change quickly and the changes are often reported far after the actual shift. I have understood these shifts due to my daily connection to the market. I take great pride in helping empower my clients to make well-informed decisions about where they live and the financial impact it has on their lives. I love what I do because it is centered in helping people with one of the biggest decisions they will make in their life. If you or someone you know are curious about how the trends relate to your goals, please reach out. I'd be honored to help educate you and help guide and strategize your next move. Here's to a happy and healthy 2023!